Award-winning companies facilitate enablement and monetization of next generation services
DigitalRoute, the leading provider of mediation solutions globally and MetraTech Corp, the leading provider of Agreements-Based Billing™, Commerce and Settlement solutions have jointly announced a partnership between the two companies that will provide communications service providers (CSPs) with a proven solution to rapidly enable and monetize next generation services, including unified communications, digital, cloud, and M2M/IoT delivered over new, fourth-generation LTE networks.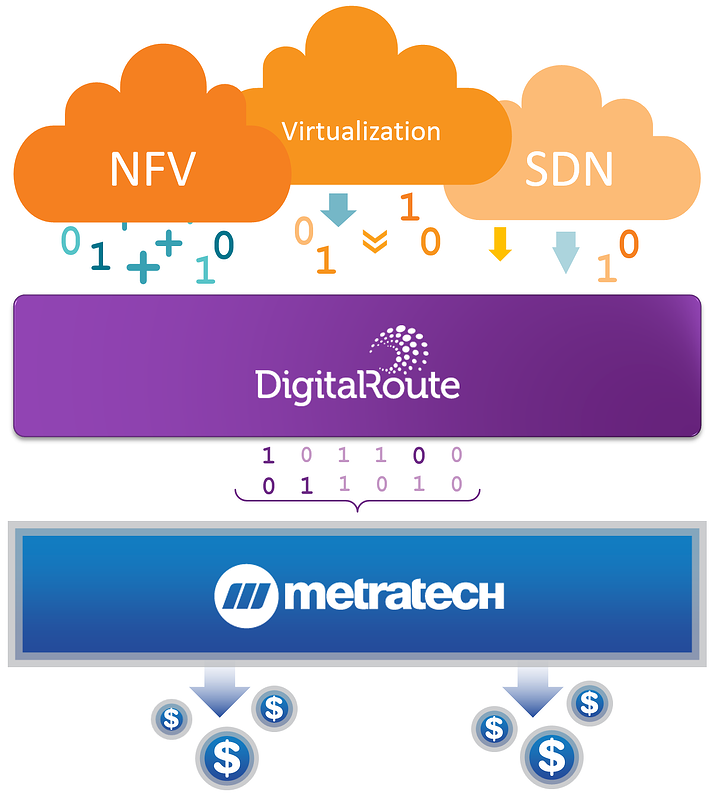 DigitalRoute and MetraTech already share a common customer, North American Tier 1, on behalf of whom the two companies solutions are paired to handle metering and charging of a virtualized service offering. This is a highly relevant implementation as Software Defined Networking (SDN) and Network Function Virtualization (NFV) are becoming industry focal points, a challenge MediationZone and MetraNet are thus well equipped to meet.
The DigitalRoute and MetraTech offering will pair DigitalRoute's MediationZone platform with MetraTech's MetraNet solution. MediationZone bridges the components in any type of network architecture and provides comprehensive functionality that lets systems easily communicate with each other. In the process, raw data is turned into usable information. Data streams are optimized and enriched resulting in reduced costs for hardware while at the same time enabling new opportunities to differentiate and personalize services.
MetraNet empowers service providers to break out of their inflexible business models and launch new services quickly, bundle offerings and reduce time-to-market. MetraNet's metadata-based architecture ensures that new services such as B2B, digital, cloud and M2M/IoT can be launched and billed for fluidly and easily across communications, transportation, financial and cloud verticals. As an adjunct billing solution, MetraNet enables services providers to turbo-charge high-growth services by supporting subscriptions, usage, negotiated B2B agreements, multi-sided business models, complex services and cross product discounting and bundling. As both a billing and settlement solution, MetraNet provides inter-provider settlement in addition to compensating partners for content or services.
The combined offering will enable CSPs to dramatically reduce time to market and monetize innovative services in an evolving 4G backbone virtualized with Software Defined Networking (SDN) and Network Functions Virtualization (NFV) for cloud-like responsiveness. Data volumes (collected from a variety of network elements) will rise exponentially and place added demands on mediation. At the same time, service providers need to increase the pace of service introduction, which is not possible with traditional billing systems in existing silos. They are also focused on delivering value-added services to enterprise customers across transportation, utility, health and financial industries that must be monetized. DigitalRoute and MetraTech's solution delivers a significant advantage to operators who are striving to achieve a competitive advantage with increased service velocity, and service differentiation to existing and new customers.
Both companies are leaders in their fields and each has recently been recognized by the highly respected analyst firm Stratecast | Frost & Sullivan. DigitalRoute received Frost's 2013 Global Technology Innovation in Communications Service Provider Mediation Billing Award. At the same time, MetraTech won its 2013 Stratecast Global Technology Innovation in Complex Relationship Billing Award.