New version delivers higher performance for large deployments, Cloud Readiness, and advanced OSS Mediation Functionality
DigitalRoute, today announces the release of its MediationZone 7.2 software. Version 7.2 contains both new and enhanced functionality that furthers usability and scalability to facilitate large-scale deployments and reduce operations and maintenance effort. It also provides new testing tools, as well as added deployment options.
Commented Johan Bergh, CEO, DigitalRoute, "Version 7.2 is a particularly important release because it directly addresses key aspects of virtualisation which, with the rise of NFV and SDN technologies have become focal points for Communications Service Providers seeking to enhance their infrastructures."

Added Bergh, "equally importantly, 7.2 delivers KPI Management, a new product extension that enables data collected by OSS Mediation to close the loop and proactively drive customer relationships and enable effective use of new network technologies."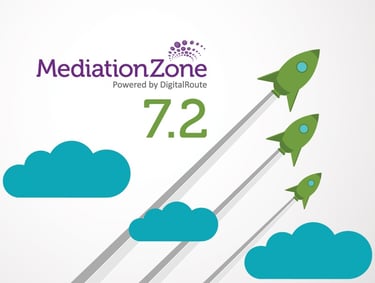 MediationZone 7.2 points the industry-leading product towards cloud and network function virtualisation (NFV) readiness via new supported infrastructures. For example, using MediationZone on the Amazon Web Services infrastructure is now officially supported for high availability using Amazon CloudWatch, and GlusterFS as the shared storage solution.
7.2 also introduces a completely new technology module called KPI Management, with functionality which adds significant value and higher level of data processing capabilities to OSS Mediation.
KPI Management makes it easy to track any aspect of network or subscriber performance against key indicators by fitting data into categories and timelines within a provisionable KPI structure. Thus, it delivers the capability to aggregate and transform large volumes of raw network performance, signalling and subscriber events data into information that is suitable for multi-dimensional analytics and smarter data presentation in OSS applications.
Version 7.2's enhanced core performance delivers easier and more straightforward operation of the product and includes:
Subfolders in MediationZone.
New configuration for continuous workflow execution.
Dynamic fields.
In addition Enhanced Testing is delivered via a new Pulse Testing Agent, a real-time collection agent that generates Pulse UDRs at intervals specified by the user, and can be used to trigger various events in workflows, to generate traffic etc. It is suitable for load testing as it can generate a very high intensity of UDRs.

Concluded Johan Bergh: "Communications Service Providers and Enterprises face challenging times. Networks are being transformed and there is real pressure to meet changing customer needs quickly and cost-effectively despite having to rely on often outdated legacy infrastructures to do so. MediationZone 7.2 helps the user meet many of these challenges and enhances our already market-leading product."